Contemporary Ukulele ProgramTM

LEVEL II(Openhouse)

THE STORY OF MANKIND

Receive up to BM$28 by attending this module. BM$ can be used to offset future course fee payments.

Level II of the Contemporary Ukulele Program™ will advance your rhythm and harmonic range as well as build upon the foundations covered in Level I.
Expand your repertoire of songs by learning new keys and continue to apply the chord theory learnt to expand your chord vocabulary. At the same time, the introduction of rhythm enhancements, like palm muting, will add more groove and feel to your songs. Don't miss out on this valuable course that will consolidate and harness your ukulele playing skills.

The running theme THE STORY OF MANKIND takes us through the history of world civilizations. The weekly themes will offer deeper insight into the ideologies behind different major world cultures and to make sense of our own today.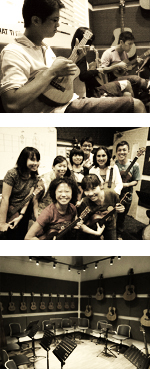 Theme: THE STORY OF MANKIND: Civilizations is a survey of major world cultures and their contribution to humanity. Broaden your worldview as you appreciate the beauty of cultural diversity.

Introduction: Rhythm Enhancements

Music Theory: Chord formulas & construction

Harmony: Easy-to-play and great-sounding chords

Duration: 4-week module; 1 hour weekly

Song Application & Techniques: Versatile rhythms for various musical genres

Interactive Music Exercises: Rhythm & chord exercises



Latest Testimonial
I enjoyed my Ukulele class. It is fun and enriching. Thanks Coach, for making the theory easily understood.
Read more...
© 1999 - 2022, Believer Music ®. All Rights Reserved.