Integrative Keyboard ProgramTM

LEVEL IV

Integrative Keyboard Program (IKP) Level IV takes your child's musical abilities and self-confidence to a whole new level.

Gain greater confidence through piano-playing rudiments and theory along with enhanced rhythm application on the Keyboard & Cajon.
Every lesson is designed with emotional and social activities to help learners grow their social aptitude and to better understand the world around them.
By the end of this module, learners will be able to:
✔️ Read & play basic musical scores on the Digital Keyboard
✔️ Play common time rhythms with added syncopation on the Cajon
✔️ Understand rhythm, scales, pitch values and time signatures
✔️ Sing & play music at the same time
✔️ Grow in self-confidence and expression, emotional quotient and psychomotor skills
Augmenting musical learning is the module theme of THE STORY OF MANKIND. Learners embark on an exciting journey through the history of world civilizations, discussing ideologies behind different major world cultures, and to make better sense of our world today.
Thematic Devotion: THE STORY OF MANKIND: Civilizations - is a survey of major world cultures and their contribution to humanity. Broaden your worldview as you appreciate the beauty of cultural diversity.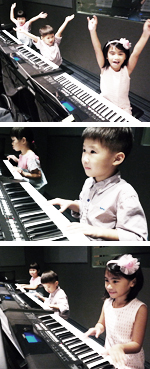 Rhythm: Learn universal rhythm patterns to apply in both personal & group settings

Chord Work: Scales and chord construction

Melodic Work: Learn to play melodic phrases by close listening

Duration: 11-week module; 60 minutes weekly

Song Application & Techniques: Play to familiar pop tunes

We believe every child deserves to experience the miracle of learning music. Believer Music's Integrative Keyboard Program (IKP) is designed to bring out the best in every child, with a distinct combination of musical, emotional and social learning perspectives.