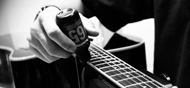 2- String Conditioning
Bring Back The Spark

Without proper maintenance, corroded strings will not only make your guitar sound lacklustre, but will also cause premature fret-wear. Moisture from air and sweat corrode the strings, shortening their life-span. String conditioning is a process where our technician will de-rust, lubricate, and bring life to your strings again.