Integrative Keyboard Program

BELIEVE YOU CAN...
We believe every child deserves to experience the miracle of learning music. Believer Music's Integrative Keyboard Program (IKP) is designed to bring out the best in your child, with a distinct combination of musical, emotional and social learning perspectives.
IKP helps children gain confidence in their own abilities, as they discover life through the world of music. Every lesson is thoughtfully planned to encourage individual self-expression through emotional intelligence, and improved psychomotor skills from playing a musical instrument.
Our unique, thoughtfully conceived syllabus is made fun with caring and committed coaches. All these take place in the best locations in our state-of-the-art music studios not found elsewhere. Join us, and experience the Believer Music difference today!
Modules
LEVEL I (7-10yo)
LEVEL I (11-14yo)
LEVEL I (15-18yo)
LEVEL II (7-10yo)
LEVEL III
LEVEL IV
LEVEL V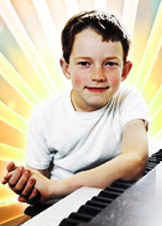 © 1999 - 2023, Believer Music ®. All Rights Reserved.