THE HEARTBEAT OF HEAVEN (Beginnings)

Receive up to BM$13 by attending this module. BM$ can be used to offset future course fee payments.
[This module is tailored for youths (age 8-16) aspiring to play contemporary praise songs]
Always wanted to pick up playing the drums? This school holiday, experience the thrill and passion of playing the DRUMS for real. Following Believer Music's innovative and revolutionary approach to music learning, your child will play this instrument with purpose and focus in just 3 short weeks (accelerated module). Team dynamics will encourage each child to actively collaborate with others to make music as a team. The drumming exercises will also foster better concentration, listening ability, communication skills, and develop both fine and gross motor skills.
This 3-week module will inspire your child to engage joyfully with the pulsations of music.
The nature of playing the DRUMS will, most importantly, awaken and set them on a life-long path after God's heart.
Thematic Devotion: THE HEARTBEAT OF HEAVEN (Beginnings) A historical survey to understand mankind's original purpose as revealed through Creation and in the lives of the Biblical Patriarchs.

Rhythm: Common time rhythms with added syncopation

Posture: Controlled instrument and sticking-handling techniques

Synergistic Flow: Added fills and touch sensitivity

Worship Application: Accompanied play with backing tracks

Duration: 3-week course; 1.5-hour weekly lessons

Available Timeslots:
School Holiday Term (25 Nov - 15 Dec 2019)
Register before 10 Nov 19, Sunday

Tampines Plaz
Tuesdaya
13:30, 15:00
Wednesday
15:00, 16:30
Thursday
16:00

International Plaza
Tuesday
Thursday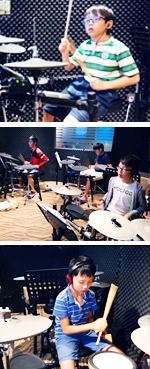 * Includes courseware and fully-equipped training studio.