Believer Guitar Program

EXPERIENCE LIFE
The guitar is not only one of the most portable instruments available, it brings a unique atmosphere to any musical setting. Ground yourself in effective strumming methods and discover new dimensions of expression through powerful chord variations.

EXPERIENCE MUSIC
Experience the power of music in our classes. Explore the beauty of expression through chord progressions while attaining a sensitive use of rhythmic strumming and fingerpicking techniques.

TAKE IT HIGHER
The Believer Guitar Program™ is designed to meet the specific needs of guitar musicians in Personal and Small Group settings. If you ever dreamt of playing the guitar skillfully...We'll take you there.
Other Guitar Programs Available:
Believer Silver Guitar Program (Ages 50+)
Believer Guitar Program - Electric
Contemporary Guitar Program
Modules
BGR
BGR (SHP)
WDI
WDII
AWDI
AWDII
AWDIII
AWDIV
SWD (SWD)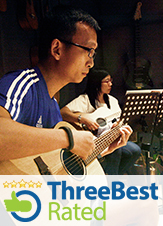 © 1999 - 2023, Believer Music ®. All Rights Reserved.