Believer Guitar Program - Electric
EXPERIENCE LIFE
The electric guitar is fast-growing to take its place across worship settings. The diversity of sounds, styles and effects richly add to the dynamics of the band as well as for individual appreciation. Engage and discover new dimensions of expression with the electric guitar in our classes.
EXPERIENCE MUSIC
Begin to speak with your instrument as you develop your unique blend of music in our modules. Harness your potential in ways that will prove most effective in worship atmospheres and gain the sensitivity to FLOW dynamically in band settings.
TAKE IT HIGHER
The Believer Guitar Program Electric™ is a broad spectrum syllabus designed to meet the needs of aspiring Church Worship Musicians and also for Personal Worship. If you dreamt of playing the electric guitar skillfully...We will take you there.
Other Guitar Programs Available:
Believer Guitar Program - Acoustic
Contemporary Guitar Program
Modules
PMR
PMR (SHP)
WDI
WDII
AWDI
AWDII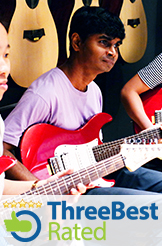 © 1999 - 2023, Believer Music ®. All Rights Reserved.