Integrative Keyboard ProgramTM

LEVEL I (11-14yo)

Level I introduces learners to the beautiful world of music. Build a firm foundation in basic music theory with practical instrument skills on the Cajon and Keyboard. Every lesson is augmented with emotional and social activities to develop a well-rounded persona.
By the end of this module, learners will be able to:
✔️ Read & play basic musical scores on the Digital Keyboard
✔️ Build a firm rhythmic foundation through fun exercises on the Cajon
✔️ Understand rhythm, pitch values and time signatures
✔️ Sing & play music at the same time
✔️ Gain self-confidence, emotional quotient and psychomotor skills

Thematic Devotion: THE STORY OF MANKIND: The Pre-Historic Age explores the early developments of humanity. Draw strength from the examples of early man as you witness the human spirit and will in action.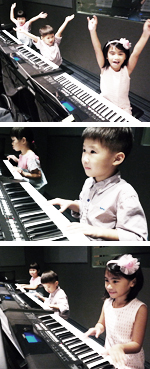 Rhythm: Learn universal rhythm patterns to apply in both personal & group settings

Chord Work: Basic scale and chord construction

Melodic Work: Learn to play melodic phrases by hearing

Duration: 11-week module; 60 minutes weekly

Song Application & Techniques: Play to familiar tunes from musicals.

Level I (11-14) suits children between 11 to 14 years old only.