Contemporary Voice ProgramTM

LEVEL V

The Story of Mankind
[This module is tailored for the individual aspiring to learn contemporary pop songs]
Level V will introduce you into a whole new realm of vocal musicianship. A well-rounded singer must not only possess a good voice but also attain a level of proficiency when handling the microphone.
Be equipped with the practical know-how of using the microphone with aptitude and confidence. This module will challenge you to instil creativity within your singing personality and growth as a singer.

This instalment of THE STORY OF MANKIND progresses through the Scientific-Industrial Revolution. From rural to city life, encounter the systems and ideologies that helped forge the pillars of our modern world.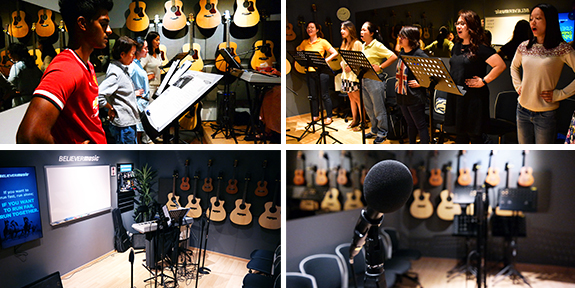 Theme: THE STORY OF MANKIND: CONQUEST Uncovers the founding principles that has shaped our world today

Duration: 11-week module; 1 hour weekly

Microphone Techniques: Develop the skill of using a vocal microphone to accentuate the desirable qualities of your singing voice

Expressive Interpretation: Reinforcement on the techniques of contemporary expression along with good tone and agility

Spontaneous Harmony: Weave through melodies with inspirational harmonic concepts

Solo & Duets: Develop greater sensitivity and spontaneous flow in solo & duet singing
Latest Testimonial
It was through a company promotion that I came to know about Believer Music. I had always thought about learning to sing. I felt singing is one of the best ways to express yourself but I never had the...
Read more...
© 1999 - 2023, Believer Music ®. All Rights Reserved.