Contemporary Guitar Program
The guitar is a great instrument to begin your musical journey with. From its welcoming sounds and portability the guitar is surely the instrument of choice to bring about entertainment and community in social settings.

EXCITE
Find the musician in you and experience the wonder of music in our classes. Use songs to speak the thoughts from your heart and soul, this is personal art at its very best.

TAKE IT HIGHER
The Contemporary Guitar Program™is designed to equip individuals with the proper techniques to play and sing casually for both individual and social enjoyment. It is never too late to embark on this musical adventure…We will take you there.


Modules
XP Trial (XP)
LEVEL I
LEVEL I (SHP)
LEVEL II
LEVEL III
LEVEL IV
LEVEL V
LEVEL VI
XP Trial [MP] (XP)
Level I - MandoPop (MP)
Level II - MandoPop (MP)
Level III - MandoPop (MP)
Level IV - MandoPop (MP)
Level V - MandoPop (MP)
Level VI - MandoPop (MP)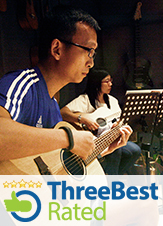 © 1999 - 2023, Believer Music ®. All Rights Reserved.