Believer Harp Program
EXPERIENCE LIFE
One of the oldest and most revered string instruments, the harp symbolizes more than just music. Embrace its therapeutic resonance which brings healing as you express your musicality through soothing melodies and rhythmic fingerpicking techniques.

EXPERIENCE MUSIC
Since Biblical times, the harp represents a connection to God's restorative and healing power. Find a deeper connection with YHWH and embark on a journey of restoration and renewal as you explore the beauty of expression, while elevating your awareness towards the emotional and spiritual ambiance in musical settings.

TAKE IT HIGHER
The Believer Harp Program™️ leads you through a devotional-centric journey, inspired by the legacy of Psalmist David. Worship-In-Sync™️ with the Believer Keyboard Program™️ and experience new dimensions of musical worship. Whether you're an aspiring harpist or someone seeking spiritual healing, we'll take you there.
Modules
BGR
WDI
WDII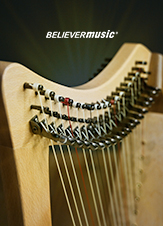 © 1999 - 2023, Believer Music ®. All Rights Reserved.