Contemporary Ukulele Program
YOU CAN...
Go as far as your mind lets you; achieve what you believe. Revive the best years of your life through the power of music and begin enjoying its benefits today.

GO DEEPER...
Find the musician in you and witness the power of song in your life and in the lives of others as you engage in meaningful lyrical exchange. Use songs to speak the thoughts from your heart and soul.

TAKE IT HIGHER...
Lessons are designed especially for a fun and comfortable learning experience. If you have always dreamed of expressing yourself musically, take that first step and we will take you there.
Modules
XP Trial (XP)
LEVEL I
LEVEL I (SHP)
LEVEL II
LEVEL III
LEVEL IV
LEVEL V
LEVEL VI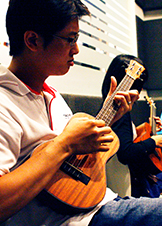 © 1999 - 2023, Believer Music ®. All Rights Reserved.