Believer Voice ProgramTM

ELEMENTARY (SHP)

3-Weeks Accelerated Elementary Module // 1.5hr per lesson
AWAKEN THE VOICE WITHIN

Receive up to BM$13 by attending this module. BM$ can be used to offset future course fee payments.

[This module is tailored for youths (age 8-16) aspiring to learn contemporary praise songs]

This 3-week course will train youths (ages 8 to 16) to discover at an early age, the power potential of their human voice. Believer Music voice coaches will not only guide course participants to discover their singing potential but also develop their expressiveness through the use of the voice. Come away empowered with a deeper understanding of the physical and spiritual workings of the voice. This elementary module will prepare youths for the Primer module.
Thematic Devotion: Awaken The Voice Within

Voice Discovery: Explore the fundamental elements and mechanisms involved in singing

Vocal Care: Understand the dynamics of young voices and how to care for them

Vocalization: Easy exercises to begin your voice WORKOUT! Learn effective ways of vocal warm-ups which are of crucial importance to the long life of a healthy singing voice

Vocal Freedom and Application: Sing songs with EASE as you start to employ the basic vocal techniques learnt in just a few weeks!

Duration: 3-week course; 1.5-hour weekly lessons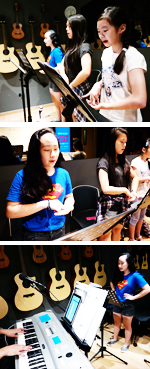 Latest Testimonial
The Voice Coach is truly amazing & dedicated in her coaching. She readily shares her expertise and techniques with the class without holding back. I really enjoyed her class. I had 5 questions after c...
Read more...
© 1999 - 2020, Believer Music ®. All Rights Reserved.