Believer Voice ProgramTM

ELEMENTARY (SHP)

3-Weeks Accelerated Beginner Module // 1.5hr per lesson

DISCOVERING GOD

Receive up to BM$13 by attending this module. BM$ can be used to offset future course fee payments.
Special Time-Limited Promo
Register before 30 May 2021 & enjoy a $20 Early Bird Discount!


Discounts will be reflected on the Payment Summary Page.

[This module is tailored for youths (age 8-16) aspiring to play contemporary praise songs]

If you've always wanted to play the keyboard, this is where your journey begins. This essential module offers you a genuine opportunity to speedily pick up keyboard playing. Right from the first lesson, you will be taught how to play a song. By the end of this 3-week course, you would have played more than 8 songs.

Our thematic approach within each class will help you rediscover who God really is as we reflect upon His Name & titles as revealed in scripture.

Thematic Devotion: THE VOICE OF LIFE - Discover and unleash the life-giving power of the voice

Breath Control: Learn the efficient way of breathing for singing

Vocal Production & Projection: Simple exercises to help DEVELOP your voice!

Diaphragmatic Support: Train and develop the RIGHT MUSCLES for effective singing

Duration: 3-week course; 1.5-hour weekly lessons

Available Timeslots: School Holiday Term (23 Nov -13 Dec 2020)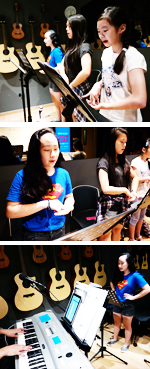 Latest Testimonial
17 June marks the finale of my Believer Voice lessons from Primer stage all the way to AWDIV -- 7 terms of 11 weeks. I gave it my all today and did my best and I still cannot believe that I can do the...
Read more...
© 1999 - 2021, Believer Music ®. All Rights Reserved.