Receive up to BM$17 by attending this module. BM$ can be used to offset future course fee payments.
Contemporary Ukulele Program™ Level IV will cover highly-anticipated melodic fills and intros on the ukulele. Featuring fun and simple riffs, take your playing joy to an even higher level by playing melodic lines over existing and new rhythms. The addition of embellishments will enhance your playing and bring a sparkle to your songs. Go beyond the ordinary and begin to experience all the ukulele can offer!
This instalment of THE STORY OF MANKIND will ignite and revive your quest for personal growth as you celebrate the spirit of invention.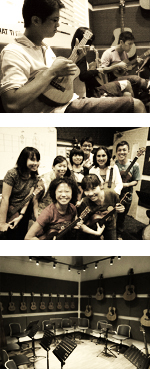 Theme:
THE STORY OF MANKIND: Inventions highlights the great achievements of the Renaissance era. Be inspired to achieve greater things for yourself and humanity.
Embellishments:
Hammer-on, slide
Music Theory:
Riff construction
Melody:
Riffs
Duration:
7-week module; 1 hour weekly
Song Application & Techniques:
Ensemble playing
Interactive Music Exercises:
New Rhythm & chord exercises