Contemporary Ukulele ProgramTM

LEVEL III

THE STORY OF MANKIND
Receive up to BM$17 by attending this module. BM$ can be used to offset future course fee payments.

Contemporary Ukulele Program™ Level III is geared to spur you to greater heights on the ukulele. Build on the chord forms, now firmly rooted in your muscle memory, by playing with alternate voicings to freshen up any song. The introduction of fingerpicking offers an added rhythm option for ensemble setups and promises to brew a genuinely rich blend of rhythm and harmony. Experience first-hand the joys and excitement of creating new sounds and flavors on the ukulele!

In our progressive theme THE STORY OF MANKIND, discover the power religion had upon mankind and how it has shaped the world we know today.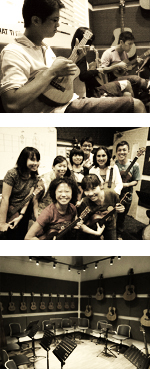 Theme:
THE STORY OF MANKIND: Faiths explores the impact of religious ideology through the era of the Middle Ages. Connect the dots to understand the religious undercurrents that still affect humanity today.
Introduction:
Fingerpicking
Music Theory:
Chord formulas & construction
Harmony:
Alternate chord voicings
Duration:
7-week module; 1 hour weekly
Song Application & Techniques:
Ensemble playing
Interactive Music Exercises:
Rhythm & chord exercises
Latest Testimonial
I enjoyed my Ukulele class. It is fun and enriching. Thanks Coach, for making the theory easily understood.
Read more...
© 1999 - 2022, Believer Music ®. All Rights Reserved.